Goal Setting for Students & Early Career Professionals
September 27
@
5:30 pm
–
6:00 pm
EDT
What do you really want out of school, work, and life? Once you know what you want, how do you set the right goals and make sure you achieve them? Join us for this interactive workshop where 3x CEO and highly sought-after executive coach, Whitney A. White, will help students and early career professionals gain clarity around their goals and build a path to make them reality. Sign up below!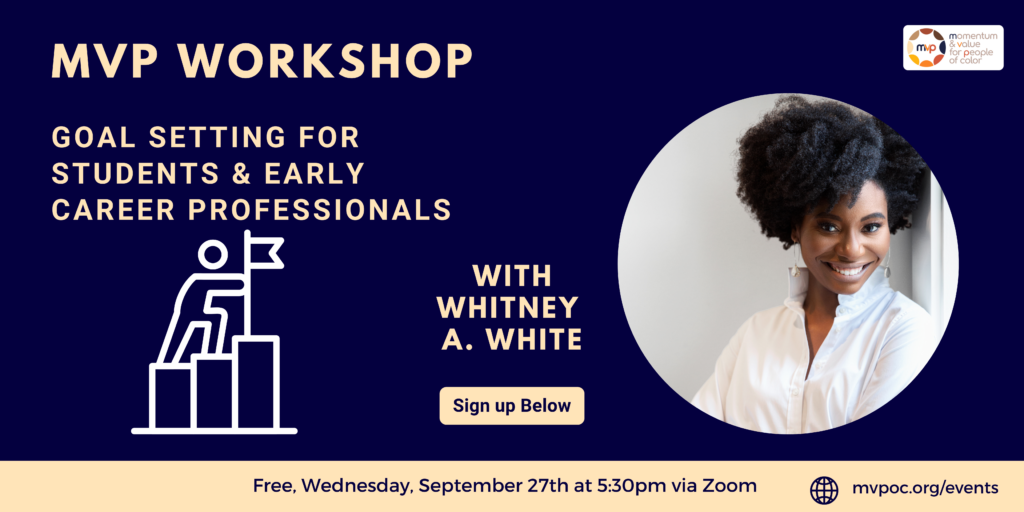 More about our guest speaker:
Whitney A. White is the CEO and Co-Founder of Equity Commons. In this role, Whitney leads the business in addressing the pervasive issue of implicit bias by offering creative, virtual reality strategies and solutions. Whitney and her team are able to encourage companies to trade in their traditional implicit bias training methods for Equity Commons' immersive VR experiences, which leave lasting impressions and contribute to creating a world free of implicit biases.
Previously, for more than 12 years, Whitney served as CEO of Afara Global, an innovation firm that guides startups, social enterprises, and corporate teams through the process of launching and scaling new products and services. Whitney is also the creator of Take Back Your TimeTM, a coaching practice that helps high achievers cut through the noise of the million and one things on their plates and get on a clear path to achieving the goals that matter to them most.
Whitney began her career in management consulting with Bain & Company, where her work spanned go-to-market strategy, merger integration, and cost reduction projects across a myriad of industries. Whitney later led business expansion, supply chain, and logistics teams for multibillion-dollar e-commerce company McMaster-Carr prior to leading fulfillment operations on the Washington, DC launch team for Google Express.
A graduate of Davidson College, Whitney is a Co-Founder of the Emergence Scholarship of the Davidson Trust and Founder of the Davidson College Tech Impact Fund, which provides paid experiential learning opportunities for women and students of color to intern with women and minority-owned businesses in critical areas related to tech at no cost to the business.